By Ndzulo "Joe" Tueche
Africa E-Reader Team member Joe Tueche led a "Kindle Clinic" late last year at the project's partner school in Cote d'Ivoire The Higher Institute of Theology at Abidjan (ISTHA). The purpose of the clinic was to provide the students with a training on how to make use of all the features their devices offer.
The clinic was held at ISTHA's remote campus, a few miles west of Abidjan. We had about 20 participants attend, which included mostly second- and third-year students.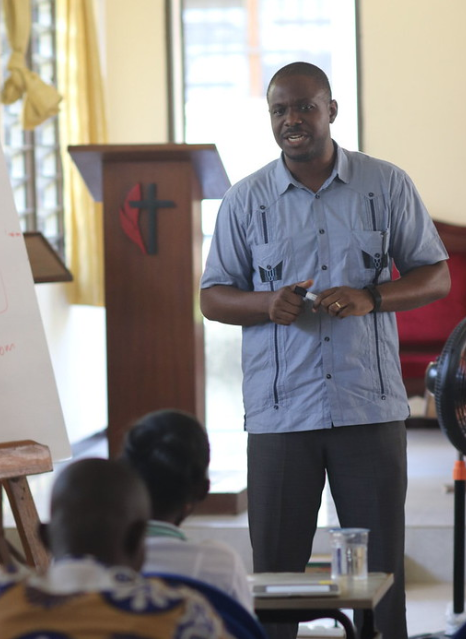 For three hours, we covered the everything from the project's background to navigating the e-readers: making notations, adjusting text size and brightness, and how to create bookmarks.
The training went over well and appreciated especially by the second-year students for whom this was their first formal training on how to use their e-readers.
When I arrived, the students had varied levels of confidence using the e-reader. I was excited to learn that some students had taught themselves to convert their own class notes to a file that could be downloaded onto their devices. On the other hand, some students admitted to me that they'd been too hesitant to use their devices. Before I left, I encouraged students who were more comfortable with the device to offer guidance and support to their peers who may be slower to adapt.
I was fortunate to have Isaac Broune assist in leading the clinic with me. Isaac, who has worked with the project for a number of years, connected the students from the perspective of a graduate in theology. He urged students to embrace a culture of reading and to read beyond just what was required of them by their professors.
At the end, we provided our contacts and let the students know that we're available for further assistance if need be. We left knowing the students make the most of their devices.